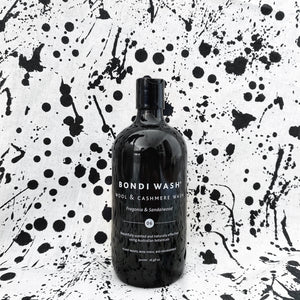 Bondi Wash Wool Wash
Regular price $17.00 Sale
Make your knits smell as good as they look.
Bondi Wash's Wool & Cashmere Wash is formulated with a plant-based conditioning agent which carries a positive charge. This is attracted to the negative charge on wool and cashmere protein fibres, leaving your clothes feeling soft and fluffy.


The essential oils in the Wool & Cashmere Wash are also high in limonene and citral, helping repel the moths that we often find in our sweater drawer when we reunite with these pieces after a long summer. Your clothes will leave the washer lightly scented with the Fragonia & Sandalwood essential oil blend. This scent can be described as woody with the light floral fragrance of Fragonia, a flower native to Western Australia.

This product is made of 100% naturally-derived ingredients, helping protect our planet from the downstream damage caused by chemical-based laundry detergents. It is also free of sulphates, synthetic fragrance, petroleum distillates, PEGs, enzymes, optical brighteners, bleach, EDTA, or quaternium. This formula is specifically designed for sensitive skin, and is safe to use by pregnant women, around children and your pets.

You can use the Wool & Cashmere wash for hand washing, as well as in your washing machine. For hand washing, pour two capfuls into a bucket or your sink. For front loading washing machines, please use four capfuls. For top loading washing machines, we recommend using four to six capfuls, depending on the size of your wash load.